ARGUENDO | 2013
ROLE: MOVEMENT DRAMATURG
DESCRIPTION - PERFORMANCE STILLS - VIDEO EXCERPT - SELECTED PRESS
In Arguendo, ERS tackled Barnes v. Glen Theatre, a 1991 U.S. Supreme Court case. Brought by a group of erotic dancers who claimed a First Amendment right to dance totally nude, the case examined an Indiana law that banned public nudity. At oral argument, the Justices attempted to define dance, pondered nudity in opera houses vs. strip-clubs, and asked whether naked erotic dancing wa artistic expression or immoral conduct.
Arguendo was a staging of Barnes v. Glen Theatre's entire oral argument, verbatim, set against Ben Rubin's OBIE-award winning projection design of animated text. The argument was interspersed with bits of real interviews with the justices, the lawyers, and an exotic dancer who traveled all the way from the Déja Vu Club in Saginaw, Michigan to listen to the argument at The Supreme Court.
Movement Dramaturgy for this piece included extensive discussion of the potential roles for dance and nudity within the piece, and sharing in the collaborative legal research process. Also collaboration on the crafting of the rolling chair choreography and the dance sequence near the end.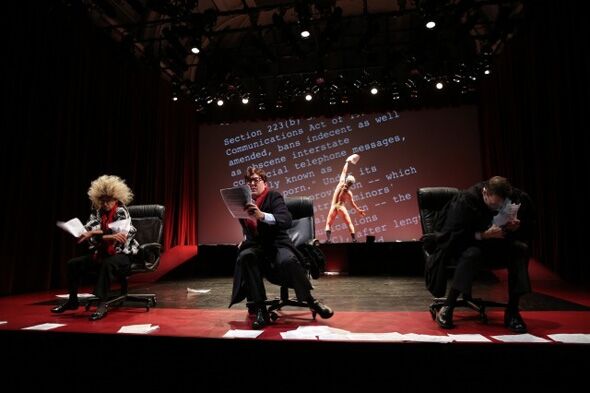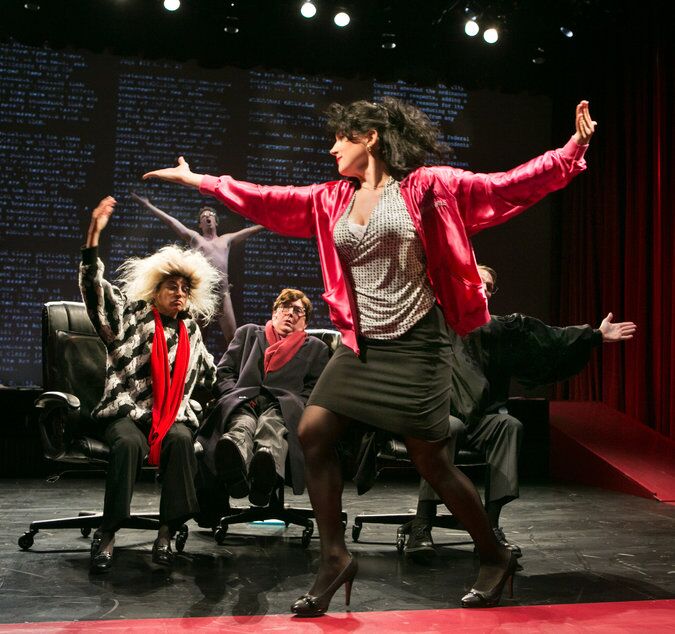 VIDEO EXCERPT / Promotional trailer
VIDEO EXCERPT / Five minute sample from performance